Mittwoch
,
16. November
,
2022
,
20 Uhr / 21:00
,
ZKM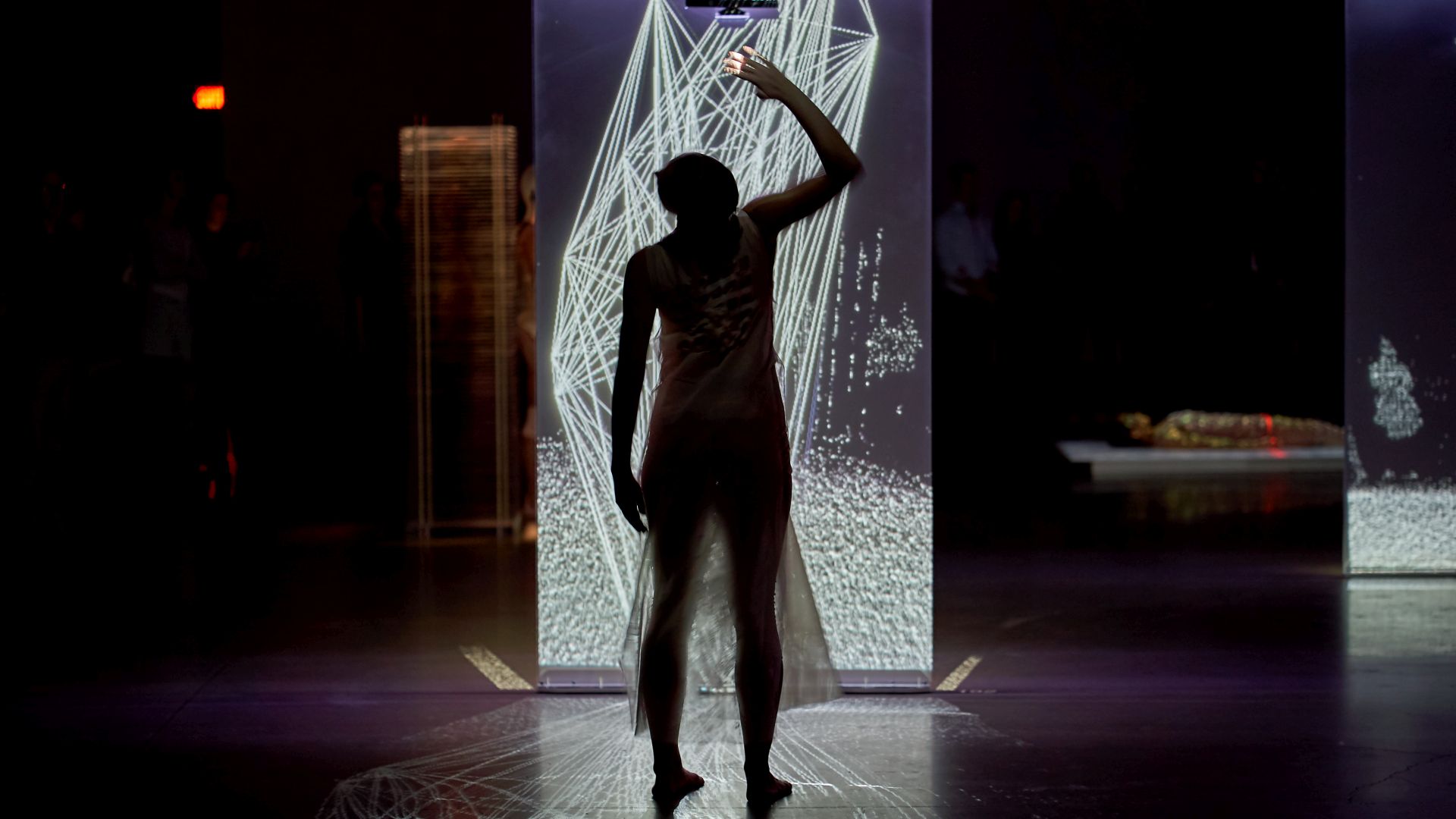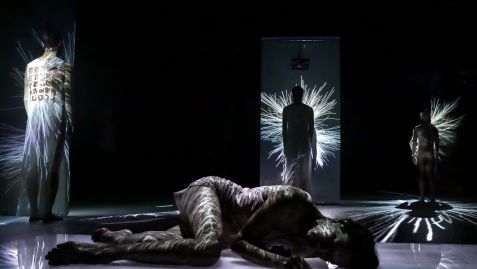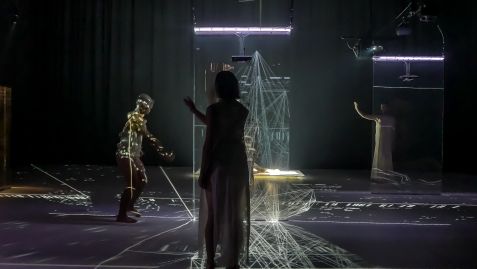 Van Grimde Corps Secrets "Eve 2050" (CDNN) (Dt. Premiere)
Eine interaktive Performance über den Körper im Zeitalter digitaler Technologie
Wie können in naher Zukunft die Grenzen des Körpers und seine Identität neu definiert werden?
Eve 2050 lädt das Publikum zu einer künstlerischen, ästhetischen und ethischen Reflexion über die Zukunft von Mensch und Körper im Zeitalter digitaler Technologie, biomedizinischer Fortschritte und künstlicher Intelligenz ein. Die Arbeit kombiniert Tanz, Video, Musik, visuelle und digitale Kunst und nimmt verschiedene Formen an, die in Theatern, öffentlichen Räumen und online präsentiert werden können. Das Ergebnis ist eine faszinierende Integration von Leben und Technologie.
Eve 2050 erzählt die Geschichte von Eve, die sich mittels der Interaktionen von Zuschauer*innen und Performer*innen ständig verändert. Eve steht dabei symbolisch für den zukünftigen Menschen: männlich, weiblich, transgender, Kind, Erwachsener, ein durch Technologien erweiterter oder mit anderen Spezies hybridisierter Körper.
In der Live-Performance teilen sich Performer*innen und Zuschauer*innen einen Raum, der eine fast kontemplative Atmosphäre versprüht. Transparente, holographische Paneele zeigen Bilder von Eve, die mit den in Echtzeit aufgenommenen Bildern der Besucher*innen und Performer*innen interagieren. Körper der Vergangenheit, Gegenwart und Zukunft verschmelzen in einer Performance, in der die physischen und virtuellen Grenzen verschwimmen. Diese einzigartige und immersive Umgebung verwandelt den/die Besucher*in beim Durchschreiten der interaktiven Paneele zu einem der vielen Gesichter von Eve. Unterstützt von einer einnehmenden Musikkomposition, Bildern und der Bewegung im Raum enthüllen sich vor unseren Augen die vielfältigen Facetten des menschlichen Körpers.
Eve 2050 ist das Ergebnis jahrelanger Recherchen von Van Grimde Corps Secret und Interviews mit Forscher*innen, Wissenschaftler*innen, Philosoph*innen und Spezialist*innen, deren Arbeit sich auf den Körper bezieht. Die Choreografin Isabelle Van Grimde evoziert in diesem Stück Reflexionen über die Entwicklung des Körpers und das in den Bereichen der plastischen Chirurgie, Mikrobiologie, Anthropologie und künstlichen Intelligenz erworbene Wissen. Eve 2050 webt ein poetisches, facettenreiches Portrait der Zukunft der Menschheit - einer Zukunft, die viel näher liegt als uns bewusst ist.
Dauer: 30 Min, im Anschluss interaktive Begehung der Installation
"Mit Unterstützung der Vertretung der Regierung von Québec in Berlin und des Conseil des arts et des lettres du Québec"

Crédits de l'installation Eve 2050
Designed to exist autonomously or to become the setting of a performance, Eve 2050: The
Installation invites audiences to engage in an artistic, aesthetic and ethical reflection on the
future of human beings and the body in an age of digital technology, biomedical advances and
artificial intelligence. The scenography is composed of three interactive panels of human scale,
and three sculptures by Marilene Oliver (humanoid presences evoking sentinels from the depths
of the ages, or matrices generating data for the reproduction of the species). The panels project
sequences from Eve 2050: The Webseries, combining them with real-time images of visitors
and performers. These images, transformed by different algorithms, turn the panels into true
virtual mirrors, portals into other forms of identity. The visual environment and soundscape of
the installation are controlled by the performers: a gesture brings out a shower of particles, a
step towards a panel deepens a melody, a spin conjures up a double in "point cloud" form, and a
duet between the dancer and this new identity ensues. Eve 2050: The Installation offers
spectators a unique immersive experience within an ever-shifting choreographic, visual and
soundscape environment. The mediums are combined to place the relationship between
movements, bodies and their images at the center of the experience.
CREDITS
Artistic Director and Choreographer: Isabelle Van Grimde
Live Performers: Félix Cossette, Chéline Lacroix, Cara Roy, Emmanuelle Martin, Citlali
Germé-Trevino, Evelynn Yan,
Scenography: Jérôme Delapierre, Isabelle Van Grimde
Interactive visual design: Jérôme Delapierre
Music and sound design: Thom Gossage
Interactive sound design: Frédéric Filteau
Additional Programming: Daniel Evans
Interactive panel engineering: Rémi Vigneron
Sculptures « Family Portrait » on loan from the artist Marilene Oliver
Light table from Dissections of Anick La Bissonnière created for The Body in Question(s)
Costume design: Pascale Bassani, Isabelle Van Grimde
Costume research: Jérôme Delapierre, Manon Desrues
Costumes accessories: Marilene Oliver
Video production: DAVAI
Video performers : Alice Delapierre, Angélique Willkie, Brontë Poiré-Prest, Chi Long,
Emmanuelle Martin, Erika Morin, Felix Cossette, Gabrielle Georges-Nicolas
Tremblay, Justin De Luna, Kim Long, Marie Mougeolle, Marine Rixhon, Rhéa Sky
Walsh, Sophie Breton, Soula Trougakos
Production Manager: Iloé Françon
Technical Director : Ganesh Baron Aloir
Production assistant: Grace McMorris
Technical assistant: Laura-Rose R. Grenier
Creation and production: Van Grimde Corps Secrets
Co-producers: Agora de la danse, National Creation Fund of the National Arts Center,
Brian Webb Dance cie
Public partners : Developed with the Plan numérique du Québec. Eve 2050 is one of the
200 exceptional projects funded through the Canada Council for the Arts' New Chapter
Initiative.
Residencies: Agora de la danse, Espace Corps Secrets, Danse Danse, Arsenal Art
contemporain
The artists and researchers who contributed to the reflections on EVE 2050: Dr. Cristian
Berco (historian), Dr. Marie-Hélène Boudrias (neuroscientist), Marie Brassard (author,
director and actress), Dr. Joanne Lalonde (art historian), Dr. François-Joseph
Lapointe (biologist), Dr. Isabelle Lemelin (anthropologist), Dr. David Paquin (engineer
and designer in new media), Darian Goldin Stahl (artist and student in the
humanities), Dr. Monique Régimbald-Zeiber (visual artist and researcher on the
relationship between the image, the written word and history), Raphaël Cuir (art critic
and historian), Dr. Isabelle Choinière (artist and researcher in new contemporary
performance practices), Roland Huesca (author and researcher in aesthetics and
dance), Dr. Jacques Mateu (plastic surgeon), Dr Brad Necyk (visual and media artist),
Marilene Oliver (sculptor and multimedia artist), Harold Rhéaume (choreographer),
Dr. Hiba Zafran (occupational therapist)
VVK: 13,80€ AK: 15 €